WE MAKE VACATIONS MAGICAL
Krabi & Phuket Tour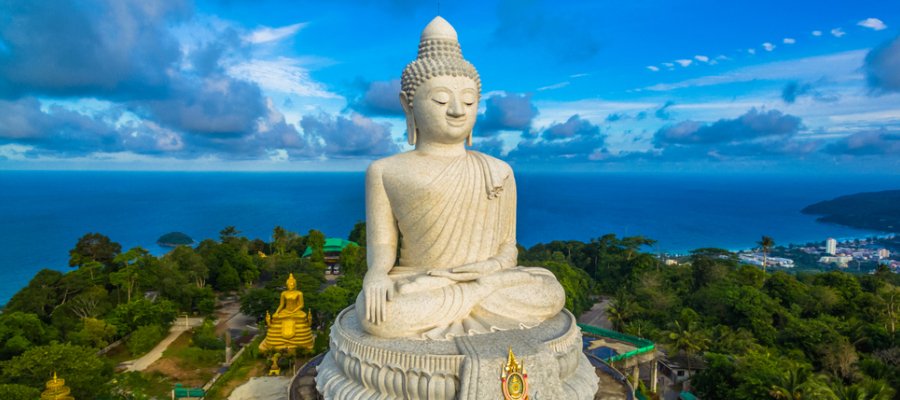 About Thailand Holidays -
There's a reason why Thailand is such a popular vacation destination. It's exotic and affordable and it's no wonder why so many people prefer to go on a Thailand Trip whenever they get a vacation. From 5 nights 6 days to as long as 10 nights 11 days, there's the perfect Thailand Tour just for you. Even budget-wise there's a lot of flexibility with rates starting as low as INR 17,237.00 to the more expensive holidays that go up to INR 128,000.00 which is still quite reasonable, considering just how much you will get to see and experience during your Thailand Holiday.
The India Travels and Tour website is easy to navigate, and you'll be happy to see that the tours have been designed by travel experts who love to travel too. Your Vacation to Thailand begins on the best possible note, right here, when you can see how much care is taken into curating these tours. Every aspect is taken care of beautifully, right from your meals to comfortable accommodation and helpful guides so that you get into vacation mode right away.
When you visit our website, you will come across a number of sections such as Things To Do In Thailand, Best Times To Visit Thailand, Places To Visit in Thailand under Thailand tourism which will help you make better plans for your holiday. Now, thanks to Thailand holiday packages being available from various major Indian cities such as Mumbai, Kolkata, Hyderabad, Bangalore, Chennai, Delhi, Ahmedabad, Jaipur and Trivandrum .
About Thailand
One of the biggest reasons why Thailand sees millions of foreign tourists coming in from all over the world is because it's so accessible and affordable. Whether you're here for the simple beauty of the beaches or if you want to sample some of the delicious and authentic Thai food or if you want to let your hair down and party,or even if you want to enjoy the delightful Thai culture, there's something for everyone here. The Thai are extremely friendly and welcome people with their trademark bright smiles. There's so much to see and do in Thailand that you will really be spoiled for choice. It all depends on why you've come here. Whether you're here on a honeymoon with your loved one or just to relax and have a good time, Thailand beckons everybody with ease and continues to surprise you consistently with their stunning sunsets, delightful blue beaches and some of its lush green nature trails. If you love shopping, then Bangkok is your best bet although you can find much to see and experience here as well as there are numerous palaces, wats and even markets here. Thailand also has some national parks where you will be struck by the beauty of their glorious and verdant jungles, frothing rivers, eerie caves and splendid waterfalls. With so much on offer, it's no wonder then that people keep returning to Thailand.
DAY 01: Arrive Thailand – Phuket – Transfer to Krabi:
Upon arrival in Phuket, take your private transfer to Krabi Hotel. Check-in and relax. Krabi, a province on southern Thailand's Andaman coast, is an almost otherworldly region, where islands seem to erupt vertically out of the sea and secluded beaches are only accessible by colourfully adorned long tail boats. With attractions including hot springs, a wildlife sanctuary, sea caves, flourishing coral reefs and exotic marine life, limestone cliffs that draw rock climbing one could easily spend weeks in Krabi.
As the first arrival city is Phuket, the RTPCR test will be done at the airport itself which needs to be pre booked & prepaid before departing from India https://www.thailandpsas.com/
DAY 02: Krabi: 04 Island Tour with Picnic Lunch on Seat in Coach Basis:
Today after breakfast, proceed for an extremely interesting Four Islands Tour by speedboat, which takes in Ko Poda, Ko Gai (Chicken Island), Pranang Beach and Ko Tub, with its sweeping sandbar, plus the beautiful Phra Nang Bay on Railay peninsula. This beach, inaccessible by road, is considered to be one of the most beautiful strips of sand in the world.
**Krabi 4 Island Tour excludes National Park fees (Approx. THB 400-450 per Adult; THB 200-250 per Child) which is on direct payment basis locally
DAY 03: Krabi to Phuket Transfer; Phuket City tour on Seat in coach basis:
Post breakfast at the hotel, check out and take your private transfer to Phuket. Phuket's great advantage is that there's always something to do on and off the island whether it's raining or shining. From the sublime to the seemingly profane, the range of activities and places to visit is remarkable for a destination of this size.
Afternoon, set out to learn more about Phuket as you proceed for the city tour. Start your tour with a drive to Phuket Town for the local sightseeing, especially to see the Sino-Portuguese architecture. Most of the people in Phuket built their houses by mixing the styles of Chinese and Portuguese architecture. Here you will get to see the beautiful and spectacular architecture of their houses. Later proceed to visit the Chalong Temple (Wat – Chalong), a very famous temple amongst the monks since olden times. It is the place where the cast statue of Luang Por Cham stands. Luang Por Cham helped people to put down the Ahngyee, or Chinese Coolie Rebellion in 1876 during the reign of King Rama V. Continue your picturesque tour with a drive pass through the Rawai Beach where a local Sea Gypsy's Village is located. Most of the residents here are fishermen. These local people have their old life style and unique characteristic, which is different from people who live in town in Phuket.
Now it's the time to visit the amazing part of the tour - Prom Thep Cape. The beautiful peninsular adjacent to the famous Nai Harn Beach. It's the Phuket's southernmost point and a perfect place to view spectacular sunset.
DAY 04: Phuket: Phi Phi Island Tour on seat in coach basis:
Today post breakfast, get ready for an exciting day ahead. Phi Phi islands is famous from the movie 'The Beach" (2000) starring Leonardo DiCaprio. Witness the stunning mountainous scenery surrounding paradise lagoon and coves. Get lost a little bit in a lush green patch of the tropical trees. Imagine yourself being cast-away there, wandering about some foreign paradise, eating bugs right off the tree, tripping your day in the water and creating lots of memories. Proceed for local lunch. Post this tour return to the hotel. Remaining time will be at leisure to enjoy on your own.
DAY 05: Phuket (ATK test):
After breakfast, the guest need to do a Self-Antigen test (ATK test) and upload the result of same on "MorChanna" mobile app. Rest of the day at leisure.
DAY 06: Depart Phuket:
This morning after breakfast, you will be transferred to the airport for your onward flight home.
* The itinerary is tentative and subjected to change without prior notice. Final Itinerary will be handed over on the day of arrival.
Krabi :
Krabi 04 Island Tour by Speed Boat with Picnic Lunch
Phuket :
Phuket City Tour | Phi Phi Island (Speed boat) with Local Lunch and National Park Fee from Phuket
Flight Information:
Return economy class airfare as per the itinerary for Ex-India Passengers
Cost of the ticket taxes for the above itinerary as on 28th March'22 for Ex-India Passengers
Transfers:
Arrival Transfer from Phuket Airport to Krabi Hotel on Private Basis.
Transfer from Krabi Hotel to Phuket Hotel on Private Basis.
Transfer from Phuket Hotel to Phuket Airport on Private Basis
Thailand Pass
Thailand Visa Charges (visa on arrival charges are approx. THB 2000 per person - subject to change)
ATK test kit
Airfares for Joining Direct guest
Guaranteed early check in or late check out. This is completely at the discretion of the hotel and we can only put in a request for the same.
Tips and porter-age
Surcharges as applicable due to peak season, surcharge dates, trade fair dates, any block out dates
Any services not mentioned in the inclusions list
Which is the best time to travel to Thailand?
The best time to travel to Thailand is between the months of November to April as the weather remains cool and dry and perfect for outdoor activities.
Is visa on arrival available for Indian nationals in Thailand?
Yes, visa on arrival is available for Indian nationals who wish to stay no longer than 15 days in Thailand.
How many days can I stay in Thailand on a tourist visa?
A tourist visa for Thailand allows visitors to stay for up to 60 days. Following this, it can be extended up to 30 days but no longer than that.
When is the Songkran festival held in Thailand?
Songkran, which is the Thai New Year, is celebrated in the middle of April every year, usually between 13 to 15 April.
How many days are required for a vacation to Thailand?
To enjoy the different facets of this beautiful country, you need to stay here for at least 5 days. A better bet would be to stay here for 7 to 8 days.
Is Thailand safe for solo female travellers?
Thailand is quite safe for solo female travellers, so long as they avoid lonely places and use their common sense.
Can I use my Indian driver's license in Thailand?
Yes, you can use your Indian driver's license in Thailand but it's always a good idea to have the International Driver's Permits as well.
Can I drive to Thailand from India?
Yes, it's possible to drive to Thailand from India along the India-Myanmar-Thailand Trilateral Highway.
Do I need any vaccinations before traveling to Thailand?
It is always a good idea to be prepared before you set out on your journey to Thailand. Vaccination for tetanus, hepatitis A and for Yellow Fever is usually recommended.
What is the cheapest month to fly to Thailand?
Typically, from May to October, it's quite cheap to travel to Thailand, the cheapest month would be September.