WE MAKE VACATIONS MAGICAL
Kanha Jungle Gateway
About Madhya Pradesh Holidays
Madhya Pradesh is the reason you love to travel. That faraway-from-home feeling, with the convenience of actually being close enough. For all you have to do is a journey to the heart of India, to discover a land so beautiful, diverse, majestic and blessed with nature, that it will leave your wanderlust truly satiated. Little wonder that in recent years, Madhya Pradesh holidays have become hugely popular, for families, friends, couples and soloists alike.
Madhya Pradesh tour packages are ready-made for you to plan an impromptu escapade, or they can be tailor-made for an advanced departure. Whichever path you select, they both lead you to this spectacular destination that's got everything you want, and then some. Discover Madhya Pradesh tourism packages that are imagined, drafted and curated by India Travels and Tours's experienced world wanderers and travel experts, in collaboration with the most reliable and prominent logistics, lodging, food and activity partners. Ensuring all your needs and wants are well taken care of, so that you can fully immerse yourself in the marvels of MP tourism, and go home feeling refreshed and recharged for life ahead.
For an in-depth view of what to expect and what's on offer, check out our packages. Where you can get an in-depth view on the things to do in Madhya Pradesh, best time to visit Madhya Pradesh and what Places to visit in Madhya Pradesh, amongst other valuable information to book the most suitable Madhya Pradesh tour package for you.
Highlights of MP Tour Packages
Madhya Pradesh is where much of India's diversity collides. The state sits at the heart of the country, sharing its landlocked borders with Uttar Pradesh, Chhattisgarh, Maharashtra, Gujarat and Rajasthan. Modern-day Madhya Pradesh is a place with a fascinating history that can be traced back to genuinely archaic times. Indeed, many relics have been discovered here dating 1500 BC! Fast-forwarding through the centuries, Madhya Pradesh witnessed many an empire rise and fall. Each building their palaces, monuments, towns and sacred sites along the way. See them all or just a select few, with Madhya Pradesh tourism packages, from the Bhimbetka rock shelters to the temples of Khajuraho and Gwalior Fort.
But a glimpse of this rich history and culture is not all that Madhya Pradesh tourism is famous for. The state is also home to abundant and flourishing natural heritage. The kind found only in a handful of places around the world. This includes six major wildlife reserves, including twenty-five sanctuaries and the magnificent Vindhya and Satpura mountain ranges, that serve as home to lush floral and countless endemic as well as migratory species. And yes, this includes the most sought after animal of all — the enigmatic tiger. Wildlife or safari Madhya Pradesh tours are your best bet to witness tigers in the wild.
The fun doesn't stop there. Madhya Pradesh has vibrant festivities and celebrations, as well as a tribal culture that defies the modern age. Sample them on your MP tour packages to partake in their colourful customs and traditions. Madhya Pradesh tourism packages are available from all major cities and towns across India comprising of Mumbai, Hyderabad, Kolkata and Cochin. This has been curated for your ease and convenience, by our travel experts. Make your next holiday, your best holiday, only with India Travels and Tours.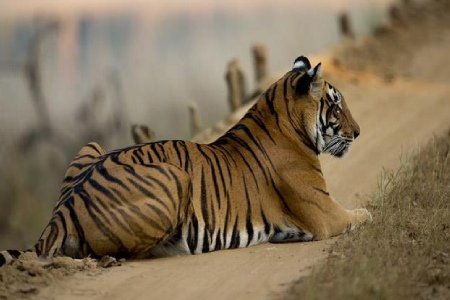 DAY 01: Arrive Kanha
Arrival and Transfer to the Hotel: Met upon arrival airport and transfer to Kanha National park and check in at the lodge. Kanha National Park vividly portrayed in Kipling's Jungle book, Its Sal forests, grasslands and the streams are the haunt of the majestic tiger. Fauna includes leopard, gaur, barking deer, black buck, the rare hardground barasingh and over two hundred avian species. Kanha National Park abounds in meadows or maidans which are basically open grasslands that have sprung up in fields of abandoned villages, evacuated to make way for the animals. Kanha meadow is one such example.
There are many species of grass recorded at Kanha some of which are important for the survival of Barasingha (Cervus duvauceli branderi). Dense forested zones with good crown cover has abundant species of climbers, shrubs and herbs flourishing in the understory. Aquatic plants in numerous "tal" (lakes) are life line for migratory and wetland species of birds. The park has a significant population of Royal Bengal Tiger, leopards, the sloth bear, Barasingha and Indian wild dog. Overnight at the Resort.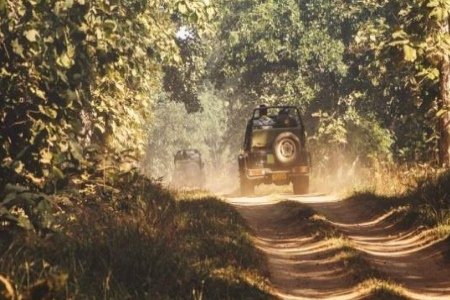 DAY 02: Kanha
Spend the day at leisure enjoying the facilities of the lodge. Alternatively you can opt for thrilling game drive (Jeep Safari) in the morning and / or afternoon into the Kanha National Park. Jeep Safaris [Morning or Afternoon]: This is On Direct Payment Basis. Boarrd the customized 4×4 vehicles to embark upon the journey into the wild. As your vehicle clandestinely makes its way through the jungle, you will rendezvous with skulk of fox preen or the big jungle cats relishing on their first meal in the morning. Hearing the tranquil sounds of over 300 wild birds chirping is an everyday affair in the park. Stealthily move further to capture a sight of the Tigers, jackals & wolves. As they trail in wonderment across the wild, you can easily spot herds of deer and gaur drinking water from water holes to loitering around with their friends and families. If you have interest in nature, you will be awe struck at the diverse variety of rare insects and plants.
PAGHDANDI BICYCLING TRIPS [Complementary one in a tour]
Paghdandi: a path not concrete but raw found mostly in farmlands or forests. These roads will take you closer to nature. Take a paghdandi into interiors of the forest on a 20km track using a special all terrain firefox bicycles to Jaldidand Baiga Village and its interiors. Carefully witness and enjoy the traditional Baiga tribal life with beautifully painted mud huts that basically belongs to the agrarian tribal society. The villagers live a fairly remote life from that of the cities. The serenity and peace restored in their rural set up is quite untouched. Get ready to explore some great panoramic views in the preserved heritage of Madhya Pradesh and forest (Recommended for not more than 4 people). Time Involved: 5 hours
THE JUNGLE THROUGH THE SIX SENSES [Complementary one in a tour]
The buffer forest alongside river Tannaur adjoins Singinawa. Walks aimed at exploring the forest up close. As a lot of you must have heard that the forest is as much alive as us and so it has the five senses. The only way to connect with the 5 senses of the jungle- sight, smell, taste and touch one must take a walk! Who knows if you can entice and awaken the sixth sense of the jungle i.e. its soul! As you lumber on foot by allowing the senses to penetrate deep within you to make an instinctive communication with nature. This pleasure cannot be lived while you are on a vehicle or safari. The distance for these walks can be customized to your requirements but typically last for a couple of hours. Take halts for refreshments/ picnics.
Timings: 2 to 3 hours
The Aromatic and Fragrant trail [Complementray Once In A Tour] - an exclusive Singinawa experience begins with a leisurely walk through the resort's FLower Garden, Herbs, Organic Kitchen Garden.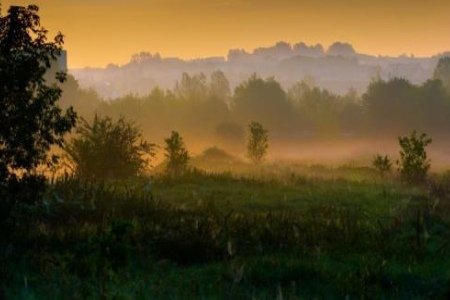 DAY 03: Depart
Morning After breakfast we leave for the Airport City of Raipur.
Sightseeing as per itinerary.
Stay in the mentioned Hotel.
Welcome drink (non-alcoholic) on arrival.
Breakfast, Lunch & Dinner with 2 veg snacks
Mineral water bottles in all rooms.
Accommodation in Well-Appointed Luxury Cottages/Rooms.
The Jungle/Nature Walk Through the Six Senses.
Paghdandi Bi-cycle Trips.
Aromatic & Fragrant Trail.
Visit to Kanha Musuem.
Transfer To And From the Resort and Raipur and Sightseeing in Private Chaffeur Drive AC Vehicle.
Entrances fees.
Anything not Mentioned in the Inclusions.
GST.
All tourists are required to download Sarthak Lite app to avail COVID 19 related medical assistance. All the ASI monuments will continue to remain open for all tourists and visitors. All passengers visiting Madhya Pradesh to undergo thermal screening.