WE MAKE VACATIONS MAGICAL
Arabian Extravaganza Tours
About Dubai Holidays
Truly a global city of the future, Dubai is less of a city and more of an experience. And the experience that is Dubai, is best explored with ITT Dubai tour packages. They offer you a wide range of choices to plan the perfect Dubai tour and get your fill of the best it has to offer. Take brief break with a Dubai holiday lasting 3 nights and 4 days or live like a Sheik with a leisurely vacation lasting over 6 nights and 7 days. A memorable experience is guaranteed regardless of which Dubai tour package by India Travels and Tours you choose.
Why Choose Dubai Tour Packages from Us
Every Dubai holiday package is a curated collection of experiences put together by the travel experts at ITT, who are themselves seasoned travellers, having taken a Dubai holiday many times. This means that no one else can take you on a Dubai tour like India Travels and Tours can. Furthermore, ITT india understands that no two Dubai packages are alike and everyone has different expectations from a Dubai tour package. You, therefore, have the freedom to customize a Dubai holiday that checks all your boxes of things to do in Dubai. In keeping with social distancing norms, you can even book Dubai trip packages online for the utmost convenience and personal safety.
Wherever you live in India, Dubai beckons as it enjoys direct connectivity with all the major cities of India like Mumbai, Delhi, Kolkata, Chennai, Bengaluru and Hyderabad. So, pack your bags and get ready for the ultimate desert vacation. Read on to find out more about your dream Dubai vacation.
Honeymooning in Dubai
Dubai is the perfect honeymoon destination for couples looking to honeymoon in fast-paced cosmopolitan cities with tons of excitement around every corner. When you book a Dubai tour package for your dubai honeymoon, you book a trip to an exotic paradise that fuses its native Arabian traditions with all of the luxuries of the West. Dubai is a cultural melting pot where you can rub shoulders with people from all over the globe, not to mention enjoy a diverse medley of cuisines. Then, of course, there is the rugged beauty of the desert and the adventures you can experience during your Dubai tour, whether you plan on enjoying a day at the races or taking a desert safari to watch the exotic shimmy of a belly-dancer. India Travels and Tours Dubai trip packages guarantee your honeymoon lasts longer than the time you actually spend in Dubai thanks to all the memories you will create together.
During your romantic Dubai holiday there are plenty of fun-filled activities to squeeze into your Dubai tour package ranging from shopping at the massive Dubai Mall to sailing along the Dubai Creek in a dhow whilst enjoying a romantic dinner and soaring up to the observation deck at the Burj Khalifa to add a spark of adventure to your marriage.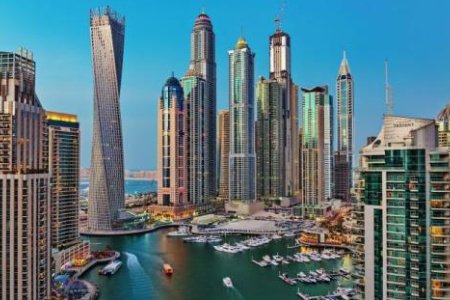 DAY 01: Welcome on board ITT exciting tour to Dubai. Mandatory Hotel Quarantine Applicable:
Welcome to United Arab Emirates, On arrival in Dubai, you will be greeted by your friendly Thomas Cook Tour Manager / local representative outside the baggage hall area at the airport. Transfer to hotel, check in & relax (Standard Check in time after 1500Hrs).
Note: Joining direct passenger's/ NRI passenger's can check-in on your own at the hotel. The standard check-in time is 1500 hrs.
A mandatory hotel quarantine is applicable for all travelers arriving into Dubai, this quarantine period (upto 24 hours) is applicable until the RT - PCR test results are out.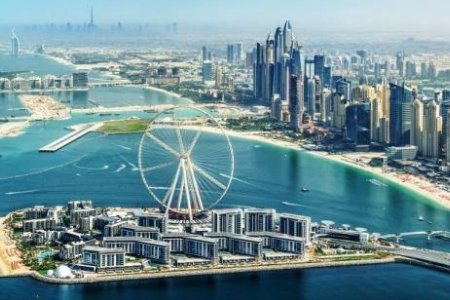 DAY 02: Morning in Quarantine. Visit Madame Tussauds. Take a ride on Ain Dubai:
Mandatory hotel quarantine till DHA - RT PCR test results are presented. Later in the evening proceed to visit the Madame Tussauds wax museum get up-close and personal with A-list celebrities, sporting legends, political heavyweights and historical icons including the rulers of the UAE and Dubai. Later take a ride on Ain Dubai - the world's largest and tallest observation wheel, it offers unique views of Dubai's iconic landmarks.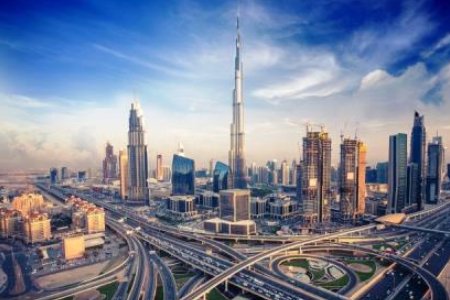 DAY 03: Guided city tour of Dubai. Visit to Burj Khalifa. Free time to explore Dubai Mall. See the Fountain Show. Experience the Yacht Ride:
Proceed on a guided city tour of Dubai. Learn and experience Dubai with our licensed and informational tour guides. Photostop at the Pointe, Jumeirah Beach, Jumeirah Mosque & Zabeel Palace. Visit 124th Floor of Burj Khalifa. Free time at the Dubai Mall. See the Fountain Show. Later experience a private Yacht ride.
DAY 04: Today enjoy the whole day at Atlantis and visit Aqua venture and Lost Chambers:
Enjoy the full day at Atlantis with the thrilling experience at Aqua Venture and Lost Chambers.
DAY 05: Day tour to Abu Dhabi. Visit Grand Mosque. Visit Qasr al Watan:
Check out and drive to Abu Dhabi. Orientation tour of Abu Dhabi drive past the Cornice,Marina,Emirates Palace Hotel and Qasr Al Watan. Visit the Grand Mosque of Abu Dhabi Mosque (Sheikh Zayed Mosque). Visit Qasr Al Watan with light & sound show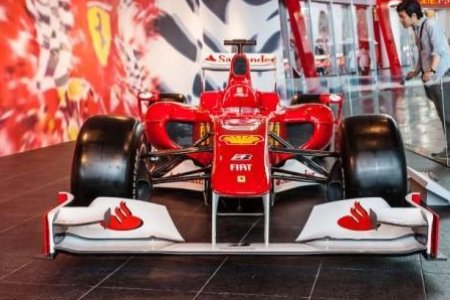 DAY 06: Visit Yas Islands – Experience Ferrari World or Warner Bros Theme Park. Enjoy Desert Safari with BBQ Dinner:
Proceed and Full day visit of Ferrari World & Warner Bros. Proceed for Desert Safari to enjoy the thrilling dune bashing on a desert safari adventure exploring the massive sand dunes of the Arabian deserts. Enjoy BBQ Dinner and the belly dancing performance.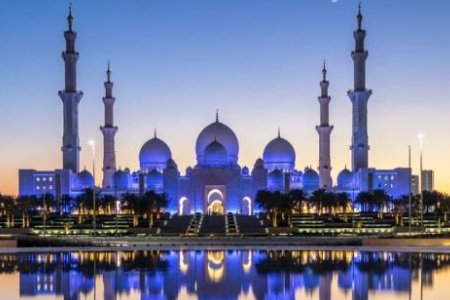 DAY 07: Fly back home:
Today after an American breakfast at your hotel, proceed to the airport as this fantastic tour comes to an end. Return home with wonderful memories of your tour.
Dubai :
City tour of Dubai | Dubai mall & fountain show | Yacht experience on Dubai Marina | Visit Madame Tussauds | Visit Ain Dubai | Burj Khalifa – 124th Floor | Day at Atlantis with visit to Lost world & Aqua venture
Abu Dhabi :
Visit Grand Mosque | Day tour to Abu Dhabi | Qasr-Al-Watan with Sound & light show | Desert Safari – dune bashing followed by the BBQ dinner & belly dancing | Full Day at Yas Island – Visit Ferrari World OR OR Warner Brothers Theme Park
All local taxes including services taxes as of 1st February 2022
Cost of Visa & Medical Insurance for the duration of the tour
All transfers and excursions inclusive of entrance fees (as specified in the itinerary) by a deluxe air-conditioned coach
Professional services of a friendly and multilingual Tour Manager (Subject to minimum 20 customers) or a local Representative.
Tourism Dirham Fees + 5% VAT
Visa, Passport & Insurance
MEDICAL INSURANCE
Medical insurance for the duration of the tour is included in the tour price. However, any passenger above the age of 60 years and those who wish to extend their stay will be required to pay additional charges
VISA REQUIREMENTS
Cost of visas including documentation and processing fees as of 01st February 2022. Any further increase in the same has to be borne by the passengers
For JD clients visa is NOT included.
PASSPORT
Passport should be valid for 6 months from the date of departure.
Visa, Airfare, and Transfer for Joining Direct
Any increase in the airfare charged by the airline on your air ticket (presently calculated as of 1st February 2022)
Applicable Government Taxes and other service charges
The tour cost does not include POE charges and passport charges
Porterage Facility
Any other expenses of personal nature such as porterage, laundry expenses, mini-bar, mineral water, telephone charges, foods, and beverages that are not included as a part of the package.
Any services not mentioned in the inclusion list
How much does a Dubai tour package cost?
Dubai ranks among the top-visited destinations in the world. Dubai tour packages available at India Travels and Tours ranging from Rs. 9 000.00 INR for 4 nights /5 days up to Rs. 1 00 000.00 for 4N 5D. There are packages that can be customized as per the user's requirements.
What is the best time to plan a Dubai tour?
People love traveling to Dubai all around the year. If you are still looking for the best time for a Dubai tour to enjoy the artificial beaches, outdoor activities, exciting events, and live entertainment. If you like summers, June to August is the best time. Whereas if you want a pleasant climate November to March is recommended for a Dubai trip as The winter season starts to fly.
Which are some of the most visited places on a Dubai trip?
There is an endless list of famous places in Dubai and a plethora of things to do on a Dubai trip. Dubai really has it all, with everything from larger-than-life theme parks to impressive shopping malls. In recent years, Dubai has emerged as one of the most urbane and trendy destinations in the world. In fact, you will either need a month-long vacation or several shorter trips to explore the entire Dubai. Few famous attractions include Burj Khalifa at the top, Legoland, Dubai Aquarium, IMG world of adventure, etc.
What is the most convenient mode of transportation in Dubai?
A very simple answer to that is 'Dubai metro'. The Dubai metro is one of the world's most advanced metro systems and is the most convenient mode of transportation in Dubai. There are also many other modes of transportation which one can choose once in Dubai are taxis, buses, the monorail, and water taxis. To book a cab in Dubai, call a taxi or use Uber or Careem, which are both app-based cab services. If you want to go exploring, you could also rent a taxi.
Will I get a visa on arrival in Dubai?
As an Indian passport holder, you can get a visa on arrival in Dubai for a maximum of 14 days provided you meet the requirements. Simply disembark from your flight at Dubai International Airport and proceed to immigration, where a free 30-day visit visa will be stamped on your passport, and enjoy your Dubai tour.
How long is the flight from Dubai to Mumbai?
The flying time for your Dubai trip from Mumbai is 3hrs 10mins to 3hrs 35mins. The distance from Mumbai to Dubai is approx. 1920 kilometers.
Can you consume alcohol in Dubai?
Consumption of alcohol is no longer a criminal offense in Dubai, but a person can only consume alcohol in licensed restaurants, bars, pubs, and clubs. A person must be at least 21 years old to drink legally in Dubai. However, you cannot consume alcohol in public, and public intoxication is a punishable offense.
Do female travelers need a hijab in Dubai?
No, ladies traveling to Dubai need not wear a hijab while sightseeing or moving around the city. There no such dress code. However, ladies should cover their heads and shoulders while visiting mosques and certain public places on their Dubai trip.
Can I use my Indian driver's license in Dubai?
NO! with the regular Indian driver's license you cannot DRIVE in Dubai, or anywhere else in UAE.
When is the Dubai shopping festival held?
The Dubai festival is now the world's longest-running shopping festival. It begins at the end of December every year and ends by early February. There is a number of activities such as live shows and events, raffles, performing arts, concerts, etc.
Is Dubai open on Fridays?
Fridays are known for Jummah Prayers in Dubai and hence banks, government, and private offices are shut as it is a weekly off. However, all the tourist places, malls, restaurants, shopping centers are open except few shops which shut down for an hour or so. So, if a Friday comes in your Dubai trip, it wouldn't be a problem.
Is Dubai an expensive city?
Yes, Dubai is an expensive city, but not exorbitantly so for travelers on a holiday. Dubai ranked 58th most expensive city in the world. Yet, the city offers relatively good value for money for all their travelers.
How far is Dubai from Abu Dhabi?
The distance is approximately 170 Kilometres. You can choose the mode of transport accordingly. Buses in Dubai are very comfortable, one can also take a taxi. However, traveling by road or metro is convenient and a better option on a Dubai tour.
What are some of the activities to do in during your Dubai tour?
Visiting the BurjKhalifa, go skydiving, have a lake ride at the Dubai Fountain, go on a desert safari with a BBQ meal, ride the rides at the Wild Wadi waterpark, go hot air ballooning, and more are some of the things you can do on your Dubai tour.
What currency is used in Dubai?
The currency in Dubai is the dirham.
How many days is enough to explore when on Dubai tour?
There are no fixed number days to see everything Dubai has to offer. A minimum of Three days, on the other hand, puts you in a comfortable position from which to see some of the city's top attractions.
Is it necessary to exchange money before visiting Dubai?
Yes, having cash before you arrive allows you to obtain transportation and other necessities such as food and drink more quickly and a hassle-free Dubai trip.
Is Dubai a safe place to visit for tourists?
Dubai is generally safe to visit for tourists since Dubai has a very low crime rate.
Dubai Visa
All Indian passport holders require a visa to undertake a Dubai tour. A Dubai tourist visa is most appropriate for Indians travelling to the UAE for a Dubai holiday or even short family visits. The type of visa required to enter Dubai for a Dubai holiday will depend on several factors such as nationality, the purpose of your planned visit and duration. Indian passport holders travelling to UAE for tourist purposes can apply for Dubai visa online . Once your visa application is approved, you will receive an approved visa copy via email.
Dubai COVID 19 Tourist Guide
Guidelines: In Dubai, all tourism facilities have re-opened and are happy to host visitors once more. All required tourist facilities have been monitored to ensure compliance with the COVID-19 tourism guidelines. All the citizens and transit passengers must have a valid negative PCR test. The names on the PCR Certificate should be as per the name on the passport.
Attractions, observation decks, public transportation, parks, beaches, pools, shopping centres, restaurants and cafes are all accessible and fully functional. One important thing to keep in mind is that any other test certificates including antibody tests and home testing kits are not accepted on your trip to Dubai. Visitors are asked to follow all safety precautions. Along with this it is also important for all tourists to install and register their details in the COVID-19 DXB app. Click here to know more about the Dubai COVID 19 Guidelines.